Discovering YUKIGUNI tour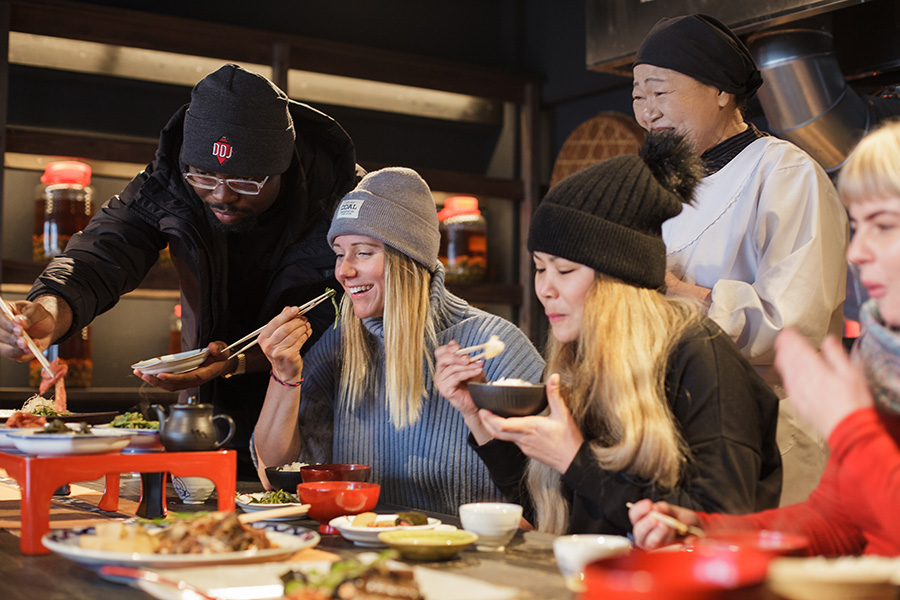 Only 70 minutes from the bustling streets of Tokyo is the northern "YUKIGUNI (snow country)." Here the remains of the ancient Jomon Culture live on with a rich tradition of culture, cuisine, and leisure hidden just beneath the glistening snow.
Itinerary
The heavy snowfall of the area integral to the production of sake in the area. As the snow melts there is an abundance of fresh water used to brew some of the finest sake in the region.
Gathering at Echigo Yuzawa Station == == Bento with Koshihikari rice (Kometaro *planned) == Honshiozawa Weaving Fabric Sightseeing Tour== Bokushi Street (sake tasting in brewery) == 16:30 Muikamachi Onsen
Destination: ryugon
Sample the freshness of the local cuisine, some of which is sometimes kept in natural "snow refrigerators." The area is also home to Matsunoyama Onsen, famous for the medicinal quality of the waters flowing there.
After enjoying coffee and beautiful snow scenery at the inn, you will experience Doma cooking (* Sunday only, from 11:30 to 13:00) == == Uonuma-no-Sato Hakkaisan snow cellar tour == Echigo-Tsumari Satoyama Museum of Contemporary Art, KINARE (* Weekdays) == Around 16:30 Matsunoyama Onsen
Accommodation: Hinanoyado Chitose Dinner: Traditional irori experience (sitting and eating around the fire)
In this area you will hike along trails that date back to Japan's Jomon Culture and take you through some of the finest scenery the land has to offer.
Depart from inn == == Snowshoeing ==Lunch with soba (Tomizawa *planned) == Kiyotsu Gorge Tunnel == Around 16:00 Echigo Yuzawa Onsen or Kaikake Onsen
Accommodation: Takahan in Snow Country or Kaikake Onsen
Ride the world's largest ropeway while enjoy the panoramic views of snow.
Depart from Inn == == Yuzawa Kogen Ropeway == Lunch with Sushi (Osushi *planned) == Around 14:00 Buying souvenirs at Echigo Yuzawa Station, then leave for Tokyo or Niigata Citygo to Tokyo or Niigata City.
Since ancient times the ryokan (Japanese style inn) has been a part of life in Japan. A place for travelers to relax, meet, and enjoy the local culture. The Snow Country keeps this traditional alive with an assortment of ryokan and onsen that can accommodate the needs of any traveler.