Furano・Biei Tourism Zone
Holidays in Furano,BIei The point of four seasons of most affluence in Asia
The distinguished point in Hokkaido with the trueness of Furano BA. A place of natural variety of magnificence such as flowers, hills and scenery. Unique attractiveness to feel the four seasons slowly in long termly and to enjoy many experiences, exchanges and foods. Presenting the unique admiration in here by means of customized service, high quality service beyond expectation.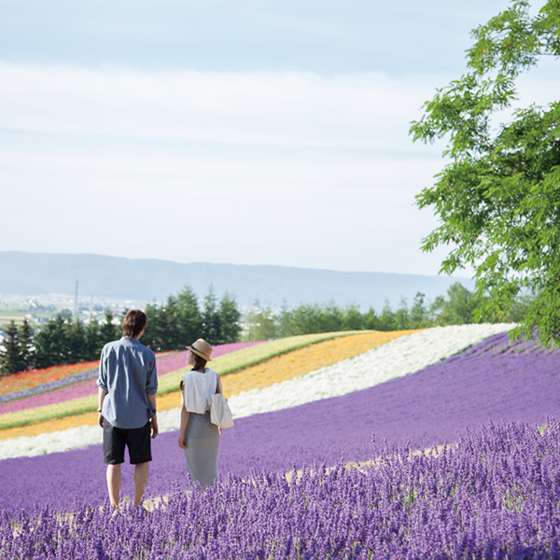 Entry Program 02
Fantastic travel like a drama (Furano Premium Theater)
Strongly personalized navigator will accompany with all participants throughout the schedule. A road of walking towards to the heaven by listening to the sound of nature. Only the places not served by the travel guide can be searched. Walking inside the mysterious scenery of Furano which can be felt only here. Fresh water and seasonal vegetables are served. Rokugo where you can keep a lot of memories and to meet many people during the tour. Hotels for spending a quite night with the foods made of harvested products together.
On the coming day, you can see the nice morning scene at the summit of Kitanomine Mountain by riding a gondola.
Walking inside the mysterious scenery of Furano
Activity contents 1
Meet the people of Furano
Going for a walk inside the nature by drinking clear water of Furano-dake (Genshino-Izumi) by the guidance of navigator.
There will be a meeting with the village dwellers in the midst of that.
Experience the vegetable harvesting
Activity contents 2
Deliver the agriculture, food and life grown with the water valuably.
Experience the vegetable harvesting after finishing going for a walk.
Accommodation
Thanks to the food, staying at a hotel where you can feel the goodness of the material.
We stayed at a hotel that we provide ingredients we procured earlier with Hokkaido food ingredients.
Kitanomine Rural Terrace
Activity contents 3
Watching the cloudy sea by riding gondola early in the morning
Spending one loose day by taking morning lunch box at the cloudy terrace of Kitanomine.
Premium vineyards BAR
Lunch
Premium vineyards BAR
Going for a walk inside the nature, Spending one loose day by taking lunch box
Looking back the travelling together
Activity contents 4
Looking back the travelling together
Watching the edited screen images with sound by looking back the travel of yesterday after gathering at the Furano Theatre Studio at the end of travel