Snow Country Tourism Zone
Uncover the knowledge hidden in the pure white world.
Under 3 meters of winter snow lies the Snow Country Tourism Zone. Even 8,000 years ago, since the Jomon Period, in what must have seemed like an endless winter, our ancestors were living in the pure white world. Surviving in a snow-covered winter for close to six months led to the knowledge of fermentation, preserving, and using the snow for cold storage, which was the start of our food culture. Living with the snow formed techniques that are still in use in the region to this day. Recently the Echigo Tsumari Art Field has been drawing attention from all over the world with its combination of art with the scenery of the countryside. All these different cultures are waiting for you in "Snow Country", just 70 minutes from Tokyo.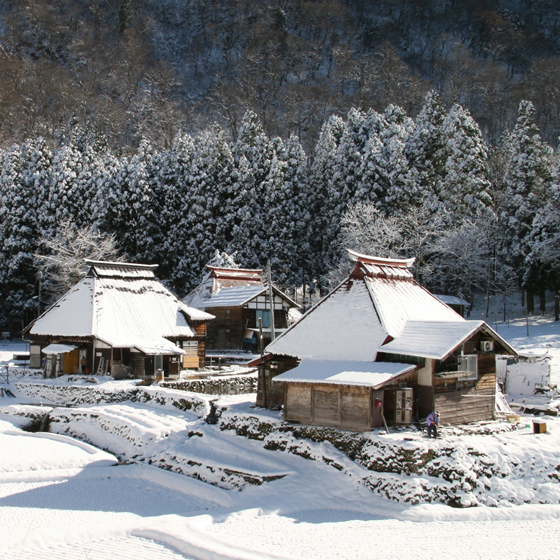 Entry Program 05
A journey to savour the blessings of Snow Country, and enjoy art combining fireworks and light as you emerge from a corridor through 3 meters of snow.
As you travel along roads carved between impressive snow walls, enjoy the scenery that is unique to winter. On the first day, take an outdoor lunch at a field where carrots are harvested from under the snow, sample local sakes, and enjoy a magical mix of art and fireworks that are part of the Echigo-Tsumari Art Field displays. Then it's off to a renovated farmhouse that is now a beautiful hotel where you can relax in the onsen and a bar in a traditional snow shelter (kamakura). Day Two involves a walk in handmade snowshoes (kanjiki) through the pure white world. These two days will give you an appreciation for Snow Country gastronomy as you sample the dishes from unique ingredients, and delicious local sakes.
Snow Country wisdom in practice with carrots from under the snow
Activity contents 1
Treasure hunting beneath the snow. Harvesting carrots that are sweetening in the cold, and then an outdoor lunch on the snow.
With humans settling in an area of such heavy snow, and it being impossible to harvest vegetables in the winter, since ancient times they had to learn how to use the snow in order to survive. One of these techniques is using the snow to store vegetables. Recent studies have shown that keeping vegetables like potatoes and carrots in snow storage increases their sweetness. Come and witness this Snow Country knowledge in the heavy snows of Tsunan which is said to be the birthplace of these carrots from under the snow. In the peace of the snow fields, enjoy freshly picked carrots as juice and dressing, with Tsunan pork and grilled local vegetables.
Local sake made from fresh water, delicious rice, and the winter cold.
Activity contents 2
Learn about Snow Country's fermentation culture at a local sake brewery
One of the special points of Snow Country cuisine is the frequent use of fermented ingredients, like miso and koji. Being one of the leading rice producing areas comes hand in hand with being one of the leading sake producing areas too. This is a special opportunity to learn about the Japanese sake-making process in an area that makes the most of its abundant spring water, pure air, and top quality rice to make superb sake.
Particpants plant seeds of light to create the work of art Flower Field of Light, and fireworks above the snow. (Kyota Takahashi's『Gift for Frozen Village 2017』Photo by Mito Murakami)
Activity contents 3
Experience SNOWART - fireworks over the snow
The Snow Fireworks are part of the Echigo Tsumari Art Field, and it is an art event that takes place just one night a year. Of course there are fireworks, but also other works of art like thousands of lights buried in the snow creating a flower garden, and it all makes for an unforgettable experience.. There is a special shuttle to take you to the entrance, and also a break room prepared.
Accommodation
Osawa-yama Onsen
The boutique style accommodation tucked into the heavy snow of the mountains and surrounded by nature has been crafted from a country house built 150 years ago. The views of the mountains, some of them among the top 100 peaks in Japan and over 2000 meters, are breathtaking. The hot water gushes into the onsen with abundant sulphur blooms and leaves your skin feeling smooth. Savor some local sake as you lounge in the onsen enjoying the view or in the bar in the kamakura built from snow.
A stroll into the backcountry
Activity contents 4
Stroll out into the wild in traditional Japanese showshoes - kanjiki
Kanjiki are traditional tools that let you walk over the snow without your feet sinking, and are easy to get the hang of so that anyone can enjoy this activity. In March the snow is easy to walk on and the weather tends towards fine days. Strap on your kanjiki and let your whole body enjoy the snowy surroundings.
Exceptional cuisine from Snow Country ingredients, with limited edition sakes only available locally.
Lunch
Sample the flavors of Snow Country gastronomy at an old farmhouse that has been reworked into an artistic accommodation.
Lunch at the Sanaburi Restaurant at Satoyama Jujo, an accommodation that has been created from a renovated farmhouse originally built 150 years ago. Although local ingredients, traditional seasonings, and fermented products are used, this is avant-garde cuisine which defies genres. There is also local unfiltered, unpasteurised sake among other drinks to accompany this tasting menu. The restaurant is made of Japanese zelkova and all lacquered. You can get a feeling for Snow Country culture from these thick beams and pillars which have endured the heavy winter snows.