Nishi-Awa, Mt. Tsurugi and The Yoshino River Tourism Zone
A thousand years,a hidden hamlet ~Going deep into the valley .Going back in time~
"Nishi-Awa(the western part of Tokushima Prefecture)" was brought up the blessings of Mt.Tsurugi and Yoshino River.
Within the embrace of lofty mountains, time stands still.
Nishi-Awa is a pure land of unchanging patterns and human warmth.
When you arrive here, you're struck by a sense of unexplored seclusion. It's a place where one valley leads into another, disappearing into the mist. Little hamlets with patches of farmland cling to the steep mountainsides. There's nowhere else in Japan like it.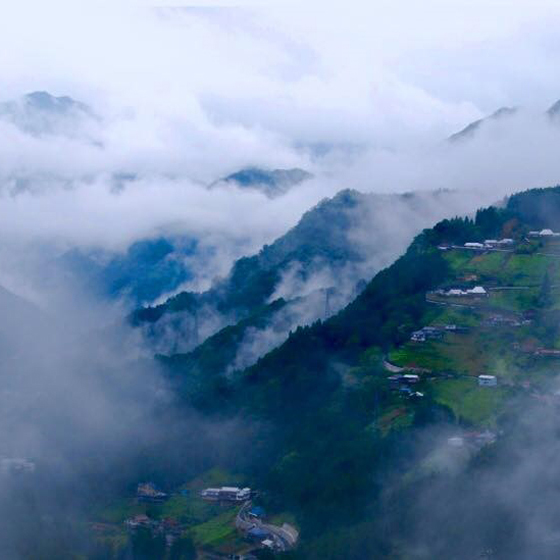 Entry Program 10
"A thoursand years,a hidden hamlet "Shangli-LA" Nishi-Awa" Tour
"Nishi-Awa",the western part of Tokushima prefecture is said "like Shangri-La".
About more than a thoursand years ago,"Nishi-Awa"people live in the village around mountains with nature. They don't use farm equipment,because their field is very steep.So their traditional farming method is circulation type using plant fertilizer.And they have a wisdom living with nature.
We provide you a jouney reviewing your lifestyle by meeting with smile of mountain residents.
A sightseeing train~Shikoku Mannaka Sennen Monogatari~
Activity contents 1
A sightseeing train~Shikoku Mannaka Sennen Monogatari~
From the comfort of the cabin, you can enjoy meals prepared with ingredients sourced in Kagawa and Tokushima and also original Sennen Monogatari drinks and desserts. The attendants will guide you during your trip.
Then you can enjoy the local shopping in BokeMart near the ObokeStation.
Kazurabashi(Vine Bridge)
Activity contents 2
Kazurabashi(Vine Bridge)& The steep slope field in Imakubo Village
Vine Bridge of Iya was said to be made by vine called "Shirakuchi kazura" to be cut off by Samurai in the old days whenever they were chased by enemies. It is National Designated Important Tangible Ethnic Cultual Asset and rebuilded once in three years for safety. You may be thrilled to watch the mountain stream over ten meters below. In the neighborhood Imakubo Village, You can stroll while feeling the living in the area.
Ochiai Village in Higashi-Iya
Activity contents 3
Ochiai Village in Higashi-Iya
Ochiai Village is a settlement on the slope of a mountain roughly in the middle of Higashi-Iya where the Iya and Ochiai rivers meet. The origins of the village are un-known, but there are stories about the defeated Heike and pioneering activity in the Iya Valley. The slopes of the settlement are very steep with a height difference of about 390 m.
The traditional houses built from the mid Edo to the early Showa period and the stone walls and fields have the atmosphere of an old mountain village.
In 2005, the government designated this area an Important Preservation District for Groups of Traditional Buildings.
Tougenkyo-Iya
Accommodation
Tougenkyo-Iya
There are currently eight thatched roof cottages restored as vacation rentals in Ochiai Village in the Higashi-Iya area of Tokushima Prefecture, known as one of Japan's three unexplored regions.
You can rent a whole cottage for your stay. Although the buildings are old, they're equipped with modern bathrooms, air conditioning, kitchens, linen and floor heating for a comfortable time.
Yoshino River fog
Activity contents
※In the case of Ochiai staying it is impossible for the process, so it is usually difficult to implement in this plan.
Yoshino River fog
An emerald green water surface, white rock faces,
and cliffs jutting straight up to the sky are colored by fresh verdure in spring and by colored leaves in autumn.
Three kilometers downstream from Oboke is the place called Koboke.
Beatiful fog appeares between the gorges in the morning in spring and autumn.
The view of moving fog with sunrise is very impressive.
Oku-Iya Double Vine Bridges
Activity contents 4
Oku-Iya Double Vine Bridges
Legend says that the Heike clan built these two bridges to access their riding grounds.
One bridge is called the Man's Bridge, the other, the Woman's Bridge.
These bridges are less accessible and touristy,
and allow visitors to enjoy crossing a vine bridge in a quiet, natural setting.
Access by bus is possible, but requires an early start.
The Oku-lya Campgrounds lie on the opposite shore and are open from May to November.
Buffet of LocalCuisine
Lunch
Buffet of LocalCuisine / Tsurugi-no-yado Iwato
Please eat rustic home cooking rich in local vegetables in a buffet style.
Buckwheat Flowers in Sarukai Village
Activity contents 5
Walking around the field at Sarukai Village
Sarukai Village is located on a steep slope where yuzu and vegetables are grown. Every year in early October, the steep slope is covered with white soba flowers which attract many visitors.
Udatsu Townscape in Waki Town
Activity contents 6
Udatsu Townscape in Waki Town
Along the historical streets of Waki Town (dating from the Edo period, 1600-1868) can been seen Udatsu, or high-winged walls that break the continuous roofline.
These extra dividers at the edges of the houses,made from clay-rich earth, were designed in part to prevent the spreading of fires.
Waki Town was an indigo dyeing center and home to many wealthy merchants, and rows of fine houses with classic tile roofs and storehouses have been preserved.
To protect the architectural character, the national government has designated this district as an important preservation district for groups of historic buildings.