Aso-Kuju Tourism Zone
Aso Caldera Volcano ――Grassland crown filled with soul――
The grasslands that smoothly cover Aso's outer rim.
From there you can seen the hidden beauty of the scenery of the caldera.
To the sound of the breeze blowing across this green velvet, the lives of the people that have come to inhabit this area have gradually added color.
The scent of the grass awakens something in the memory and makes the spirit take notice.
Both the people that live there, and visitors too, find themselves reflecting on what has passed and what is yet to come.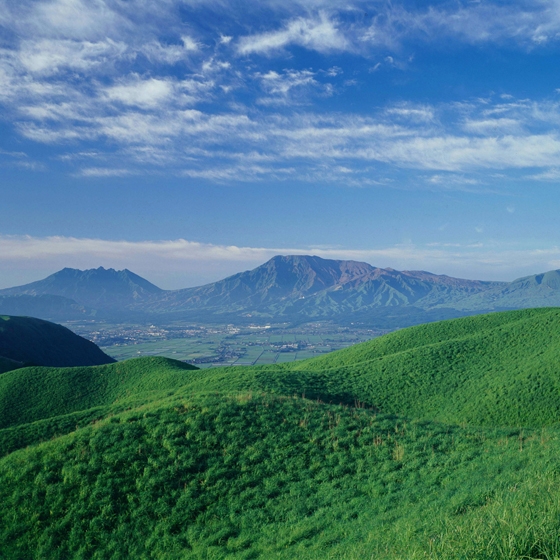 Entry Program 13
Aso, a trip over the land of 100,000 years.
Slowly bathe in hot springs, look up at the night sky and walk in a silent forest. Please take a premium trip given by the Aso-Kuju tourism zone, where you can experience the Majestic nature and "Aso" produced by people's cultures.
Hiking in the company of a guide.
Activity contents 1
Aso caldera geotour
In the company of the Aso Geoguide, you will explore the origins of this magnificent land and the workings of the distinctive way of human life that unfolded there.
Let's say "Kappo!!" instead of "Cheers".
Activity contents 2
Kurokawa Kappo
After dinner, You will walk around Kurokawa Onsen. At the Ryokan and shops eatery, you can enjoy local unique Food and liquor.
Accommodation
Kurokawa Onsen
Kurokawa Onsen is located between Mt.Aso and Mt.Kuju. And Kurokawa Onsen is popular as one of Japan's leading hot springs.
Forest bathing with Native forest and waterfalls in Mt.Sobo.
Activity contents 3
Forest bathing with virgin forests and waterfalls in Mt.Sobo
You will walk through a silent forest with a local guide until the fifth hut of the Mt.Sobo.
Aso Akaushi-beef Steak.
Lunch
Aso Akaushi-beef Steak
Akaushi bred by Aso's grassland. Please eat the sirloin steak that is the finest part.