Ask most people with an interest in coming to Japan where they would like to visit and Kyoto will be near the top of their list. It is indeed a wonderful destination with many famous sights. It also has plenty more that most tourists never get to discover though hopefully the Unexpected Kyoto Journey of Discovery will change that and introduce you to a whole new aspect to Kyoto.
The lesser-known side of Kyoto is a place of quaint fishing towns, quiet beaches, and gently flowing waters. A perfect get-a-away from the bustle of city life and an ideal location to discover what small town Japan has to offer, especially after spending several days in the crowds around inner city Kyoto.
Head out of Kyoto towards the coast and you can find old buildings with lots of history housing artisans plying trades that have been in existence for hundreds of years. Your first day involves trips to producers of traditional yubara made from soybeans, and the chance for a hands-on textile experience. You are in Kyoto after all, so the day wouldn't be complete without the obligatory visit to an ancient temple or two.
Some of the coastal scenery here is arguably the best in Japan with blue water, sandy beaches, and pine trees. It has been praised in Japanese literature throughout the ages and still maintains an alluring charm. Enjoy some of these views both from the shore and on the water and then head out to learn about the famous textile production of this region with the chance to try some of the skills involved.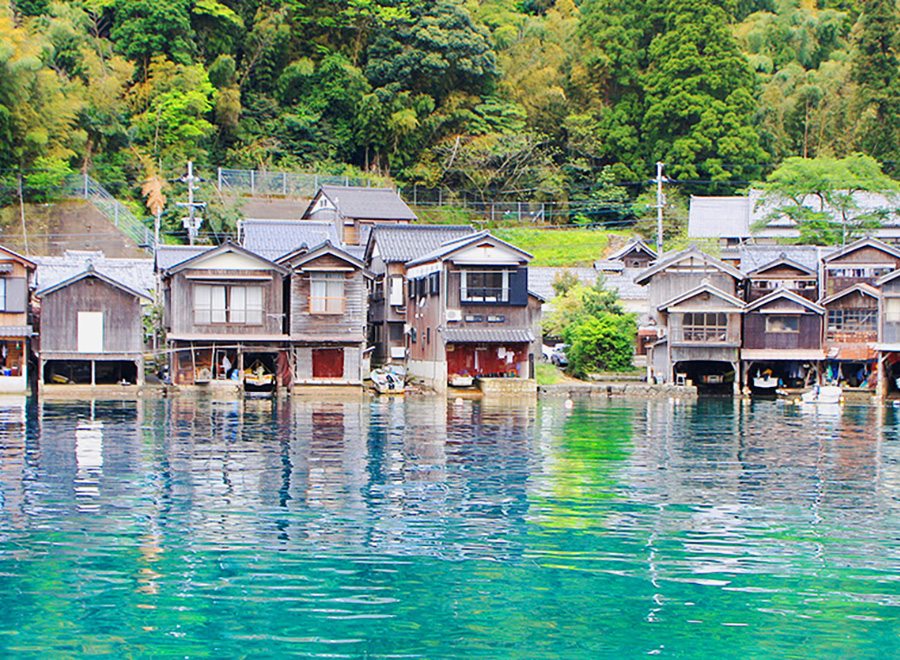 Ine town is the next stop and this is fast becoming an iconic picture of Kyoto by the Sea. Old boat houses that hang out over the bay have been converted into places to stay or eat, and it is an amazingly picturesque location. Check out some of the amazing conversions and then float out into the bay and see if you can catch something for dinner. Even if your luck isn't in with the fishing there is plenty of delicious seafood to enjoy here. Fall asleep in one of the boat house accommodations to the sound of the sea lapping close by.
Don't sleep too long though as you need to be up early to enjoy the sunrise over Ine Bay. It is back to enjoy the views of the famous Amanohashidate for the morning, and then having worked up an appetite, a delicious lunch crafted from local ingredients, before heading back to Kyoto Station.
Kyoto by the Sea is a wonderful place to visit in its own right but it is also the perfect introduction to venturing off the more travelled tourist routes. It is easy to get to from Kyoto and you can discover an area of Japan that is less well known but has so much to offer. All the favorites of great food, warm hospitality, history, and unique culture are here, and you are guaranteed an unforgettable experience.
Check here for more information on this tour.